The Spring 2014 Internet of Things Code-for-Good event, sponsored by Georgia Tech's CERCS, Intel, and UNICEF, has attracted about 30 students to spend their Saturday & Sunday working to help those in the immediate aftermath of a disaster. Intel has sent two great engineers -- Anil Keshavamurthy and Piotr Kwidzinski -- to help students get to work with the Galileo hardware and the IoT Toolkit for uploading data to the cloud.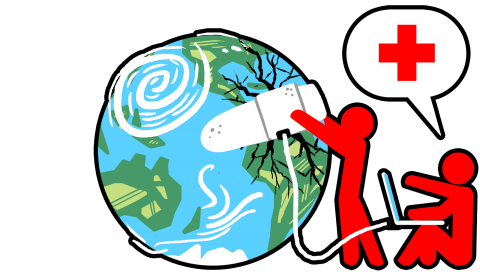 The UNICEF directorate for Innovation has been a great motivator, pointing the students towards the First 72 Hours innovation challenge. There were a lot of great discussions among the students after Julio Dantas called in from Chile to get them started first thing in the morning. They've formed 4 teams, as follows:
Team Data Mule: Using ad hoc wireless networking and embedded devices in ponchos/vests for the first responders to offer an infrastructure for sharing information between different relief sites.
Team "Are We Home Yet?": Focusing on people once they've reached a shelter, they're developing a game/handheld to help assess possible mental & physical issues after the immediate medical triage.
Team Tricorder: Exploiting the IoT Toolkit's ability to upload sensor data into the cloud, this team is working with a wide variety of available sensors to try to support a very modular approach to monitoring and sharing data back to the central office.
Team Peer-map: In areas after a catastrophic flood, avalanche, or volcanic flow, the existing maps may not be sufficient to help navigate. So teams of people can share current positions in a peer-to-peer way to help people find the path to safety faster.
We've also had Michael McCool from Intel call in from Japan to hear what sorts of innovations, challenges, and opportunities the students have found. Watch for video and picture updates! You can also look for more content and updates over the HackerLeague website for our event.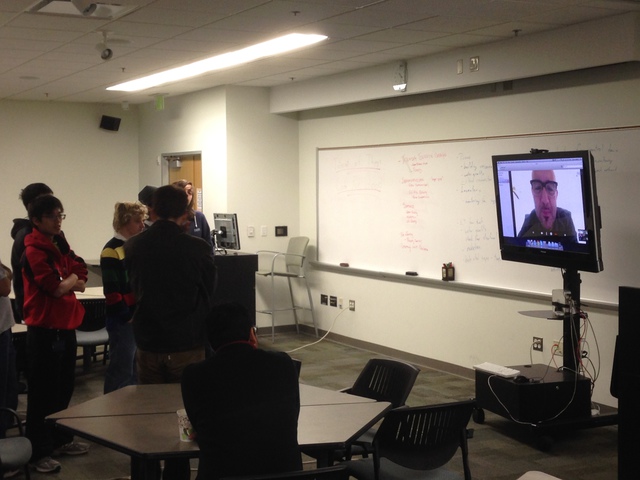 Julio Dantas calling in to talk to the students.