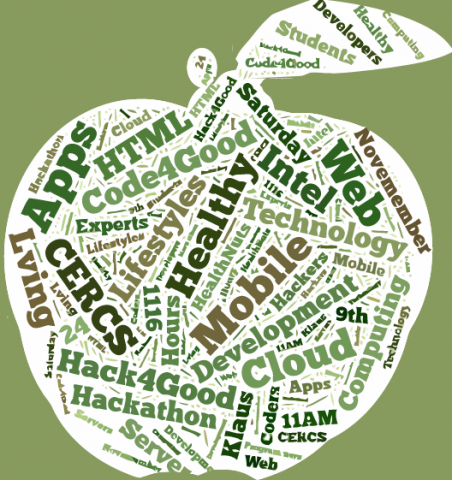 2013 Healthy Living Hackathon
Come develop Android Mobile Cloud Computing Apps
What: 24 Hour Collaborative Hackathon
When: Saturday November 9th 11:00 a.m.
Where: Klaus 1116
This year's Intel Code for Good hackathon event at Georgia Institute of Technology will focus on solving modern day issues with childhood obesity with the help of students. Experts will teach students how to build cutting edge HTML5 web apps and Android mobile apps, while the students form teams to tackle issues of health. The event will start mid day Saturday and conclude with an awards ceremony lunchtime Sunday.
If you are interested in gaining free access to cloud foundry prior to the hackathon, or just would like to state your intent to join us, fill out the form here:
The event is now over, so the form is deactivated. However, please check out some of our links to the event content:
-- The CERCS Live blog & commentary can be found here!
-- Brad Hill of Intel has a blog post up as well, with some great quotes from last year's speaker, Dr. Marks.
-- Cornelia Davis put up a great summary of her experiences at GT on Pivotal's blog.